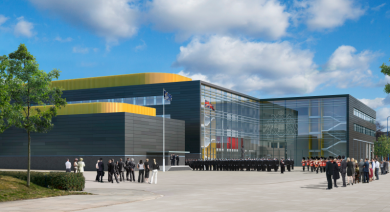 Woodlands are pleased to announce that we have been selected by MACE to provide all of the site temporary services at Hendon Police College.
Once again Woodlands will be at the cutting edge when it comes to the site lighting, using their low energy LED 48 volt system.
The Peel Centre, founded with the official name of the Metropolitan Police College, was officially opened in 1934 as a training centre for Metropolitan Police cadets. It was rebuilt in 1974 and re-opened by Queen Elizabeth II.
The new Metropolitan Police training centre in Hendon will replace the existing Peel Centre in Aerodrome Road.
The new training centre will involve demolition of existing buildings and construction of two buildings, with one up to four storeys in height.